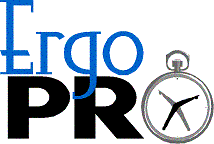 ErgoPro Ergonomic Software
Ergo Pro Computer Fatigue Software reminds you when to stretch and shows you how.
Ergo Pro is sold wholesale for distribution by the healthcare industry. Not only will it help your clients and can increase your general revenue. We can add your custom message for $50 to Ergo Pro so that it is visible every time your client uses the program, making this a powerful marketing tool.
By providing only 5 patients a day with this simple and easy to use software, you can earn over $15,000 a year.
Just think how many of your clients could be helped with just a simple periodic rest reminder. This is the perfect adjunct to your treatments and it's great for office and home use.
This revolutionary new software, retails for only $14.95 (wholesale price as low as $2.50), automatically informs the computer user when to take exercise and stretch breaks. It even shows the user how to perform the exercises with instructions and illustrations. Taking breaks helps prevent work related injuries. A reduction of injuries decreases work absences, reducing workers compensation claims and rates.
Ergo Pro is a solution for:
Headaches
Stiff Neck and Shoulders
Painful Wrists
General Fatigue
Blurred Vision
Benefits:
Affordable.
Simple to use - just give it to your patient, they install Ergo Pro, and it does the rest.
May help to relieve or reduce risk of repetitive stress problems, eyestrain, headaches, shoulder muscle tension, neck pain, and back pain.
Click here to see Screen Shots of Ergo Pro