Nutrition Software for the
Dietitian, Nutritionist and Personal Trainer

Nutrition Maker is our basic yet ample nutritionist software. It is robust enough for dietitian software and still appropriate as personal trainer software too. Nutrition Maker nutritionist software comes packed with features and abilities yet remains amazingly affordable. Whether your profession is geared toward proper eating and diet only or includes fitness, this nutritionist software package is for you. Nutrition Maker will assess the daily calorie requirements of your client, print meal plans, shopping lists, recipes, and provide informational handouts. The clean and professional handouts will enhance your professional image, save you time, and motivate clients at the same time! Nutrition Maker starts at $149.
What will Nutrition Maker do for the dietitian, nutritionist or personal trainer?
As a health and nutrition professional, you provide motivation and expertise. Our nutritionist software can help set yourself apart from the multitudes of others in your profession. By having Nutrition Maker in your complement of tools you get the following advantages:
Detailed and specialized reports enhance your professional image.
Our nutritionist software provides authoritative calorie data, helping to retain and attract new clients.
A variety of meal plan options converts services into steady and consistent dietary consults and meal plan programming.
Optimize client weight loss with diet.
Maintain client motivation with shopping lists, new recipes and meal plan options.
Color booklets set you apart from your peers; be the health professional that everyone talks about and wants to hire.
General Features of our nutritionist software:
Unlimited number of clients allowed.
Maintain client contact information and before and after photos for clients.
Capture client health history (PAR-Q, medical or create your own).
Flags client health risk issues.
Calorie assessment and meal planning.
Assists in formulating specific, measurable and realistic goals.
Built in To Do List.
Ability to add unlimited meal plans.
Nutritionist software features:
Create nutritional and weight loss goals for your clients.
Establish daily calorie levels and nutrition goals based on client age, gender, and activity level.
Carbohydrate, protein, and fat ratio balances can be selected for custom meal plan entry.
Assess calories based on client activity level using basic or detailed 7 day custom activity level.
Set calorie baselines for weight control.
Determine calorie baselines with one of four different RMR equations (Harris-Benedict, Mifflin, Katch-McArdle, or Custom).
Nutritionist software calorie screen: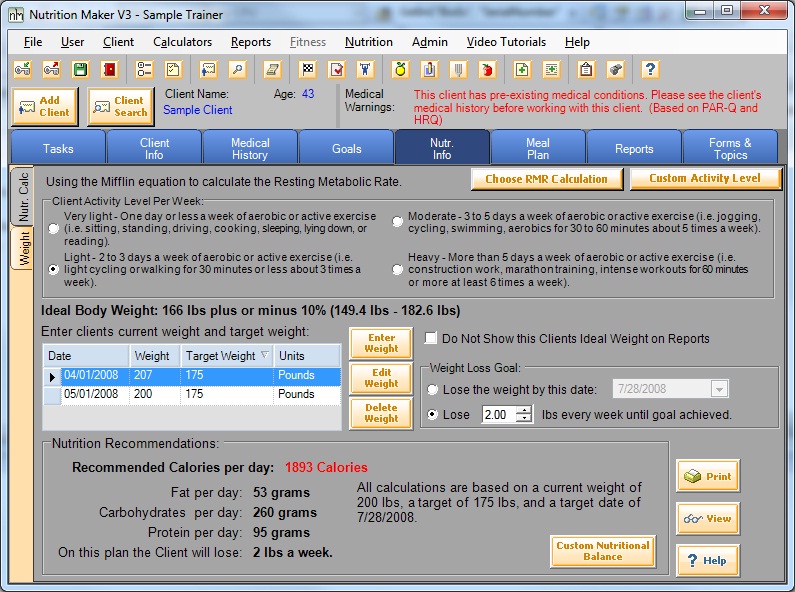 Meal plan features:
Choose from a variety pre-made plans designed by a registered dietitian.
Over 25,000 Foods in food database.
Food database includes United States, Canadian, Australian, United Kingdom, and various restaurants and health food companies.
Create and edit meal plans.
Change order of days with random day feature.
Choose from over 100 recipes or add your own.
Create your own meal plans, diet plans or edit existing meal plans.
Food alternative suggestion feature included.
View macro and micro nutrients.
Create custom meal and diet plan templates.
Search by specific food database.
Search by specific food category.
Alternative food suggestion feature.
Contains thousands of foods and a fast-find search engine.
Add your own foods.
We offer a variety of additional meal plan templates so it is easy to exand your nutritionist software to meet all your client's needs and tastes.
Nutritionist software meal plan screen: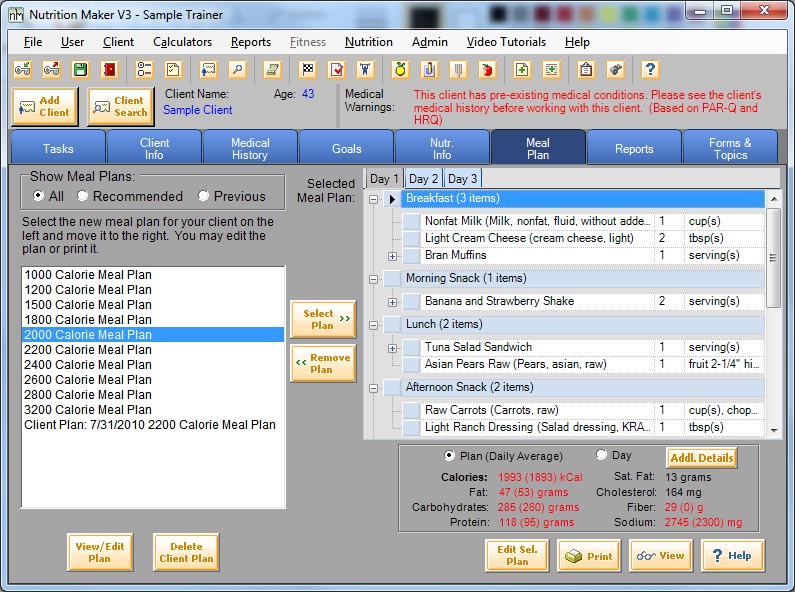 Printed report and handout options for our nutritionist software program:
Meal plans.
Nutritional reports (micro nutrients, calorie activity level and more).
Graphs of goal and nutritional achievements.
Informational handouts (food type references, sodium guidelines, cholesterol, etc).
Diet plans with nutritional analysis.
Shopping lists and recipes.
Client nutritional summary booklet.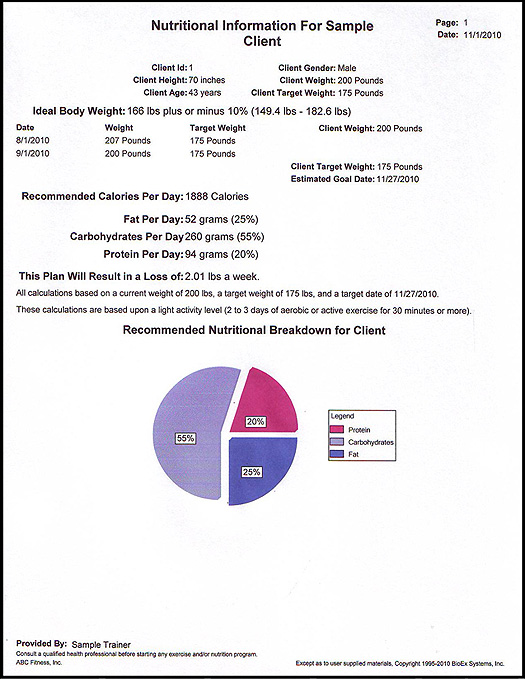 Nutrition Maker is licensed for one user on one computer with unlimited clients. Additional user licenses may be purchased for the single computer install. For use on multiple computers, Nutrition Maker nutritionist software can also be set up on networks and for more than one person. See our nutritionist software pricing options for more details.
If you want fitness testing in addition to nutritionist software features please consider Fitness Maker Professional, which incorporates all of the features of Nutrition Maker and Fitness Maker into one seamless software program.
If you are interested in our professional version of our nutritionist software please see Nutrition Maker Plus. It enables you to perform a dietary analysis of your client's eating history and habits.
We offer a variety of integrated software suites that allow you to use Nutrition Maker with our exercise, fitness assessment, billing, and scheduling products. Personal trainer software packages for more details.