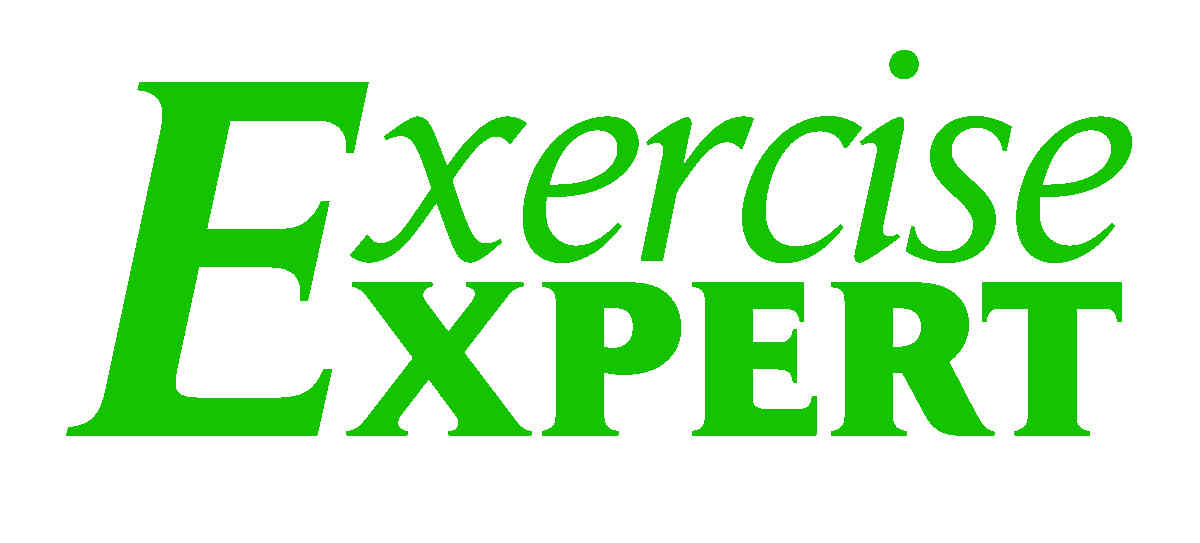 Modular Software for Exercise Programs
Exercise Expert is an affordable computer software program of fitness exercises that can be printed or emailed to your clients. The exercises all print with clear instructions and illustrations. It is great for strength training, wellness programs, fitness programs of all levels, and post rehabilitation. Using the program enhances your professionalism, results in better client understanding of form and technique, and adds variety to your workouts.
Exercise Expert starts at $89.95. Click here for more information.
We offer a variety of integrated software suites that allow you to use Exercise Expert with our fitness assessment, nutrition, billing, and scheduling products. Click here for more information.
Features of Exercise Expert are extensive. You receive over 551 unique exercises in the base program and you can expand up to 2650 unique exercises with additional exercise libraries (all priced at $39.95). Exercise Expert has EVERY feature that a trainer might need AND MORE! Read on for more features or click here for specific comparisons with some of our competitors.
In addition, Exercise Expert links with all of our fitness and nutrition software. Combining our great exercise and fitness software gives you an extensive fitness software suite. Use Exercise Expert weekly to give your clients new exercise programs, and use Fitness Maker periodically to track their progress. Our software helps you attract new clients while motivating and retaining current clients.
Exercise Expert features are listed below:
Search for Exercises with numerous (over 20) methods and by specific exercise type, movement, position, equipment, and more.

Tab layout for efficient location of exercises
Search in a list by body part
Search by individual muscle and muscle groups
Search by movement and position
Search using the visual body
Search favorite exercises by trainer
Search results with list or picture either with or without names
Search by typing the exercise name or number
Bookmark favorite exercises for easy and fast retrieval
Print layout preview search
Uses drop and drag selection or keyboard selection
Create custom search tabs (with purchase of Advanced Features Module $39.95)
Create programs by number selection
Technical and common name search




Allowing this variety not only improves your efficiency and productivity, it means ANYONE can find the exercise they want.

Email Exercise Programs - In addition to being able to print out a variety of exercise handouts you may also email them. Great for home visits and traveling clients.
Print numerous exercise handouts - Print 1,2,3,4,6,9,12, or 40 exercises per page. Print two types of tracking grids for patient progress recording. Print custom cover pages. Print a condensed exercise handout for "Onsite" or supervised fitness programs. All exercises print with sets, repetitions, frequency/day of week, rest periods, hold times and rate. And more.
Include Target Heart Rate for cardio exercises. Add your own logo to the reports. Ability to print exercises with a left or right orientation. Create programs with Pyramid sets and reps. Choose from multiple stock comments. Print with exercise numbers, common or technical names, with or without date, or blanks.
Export all reports to PDF.
Create your own protocols. Saves time making exercise programs.
Global exercise defaults based on specific exercise types.
Saves exercise by client name, issuer name and date for easy retrieval. Keeps records of amount of weight and/or color of elastics. Also lets you have default comments on specific exercises, protocols, and for general handouts.
Exciting Additional Exercise Libraries - A modular system capable of expanding content to your specific needs. Examples of libraries are Stretch, Functional, Ball, Stabilization, Yoga, Pilates, Elastic, Power/Agility, Aquatics, and more. All modules are reasonably priced at $39.95. Click here to see Exercise Libraries.
Built-in Back Up/Restore of data, automatic or manual Program Save. The chart copy will let you type daily notes or comments.
Other great features include a built in spell checker and video tutorial. Numerous reports including a thumbnail summary of the exercise database. Please download the trial version to see all of these features and more.
Add your own exercises - Supports color images and/or import a black and white illustration. Add up to 2 color photos for each exercise. (with purchase of Advanced Features Module $39.95)
A built-in illustration maker for adding your own exercises. Sure, we let you scan and import like almost everyone else, but no program has a built-in picture maker. We give you a stock library of parts to make your own exercises. Or copy parts of the ones already in the program. (with purchase of Advanced Features Module $39.95)
Change the search criteria of an exercise. (with purchase of Advanced Features Module $39.95)
All handouts may be printed in Spanish and French. (with purchase of Spanish/French Module $39.95)
Other considerations - Unlike some competitors, we do not require you to buy a $99 program module, for the privilege of purchasing additional modules to expand your system. We provide free update patches that ensure your software runs on the latest systems. We do not duplicate exercises in our count. If you ever have to re-install due to a computer failure or loading it on another, you do not have to wait for a new code or pay again. Exercise Expert is touch screen compatible. FREE technical support by email.
For ease, speed, and reduction of confusion, only two screens need to be accessed for most applications. No more "getting lost" in a jumble of multiple screens. The search screen is the home base and the key for easy exercise selection.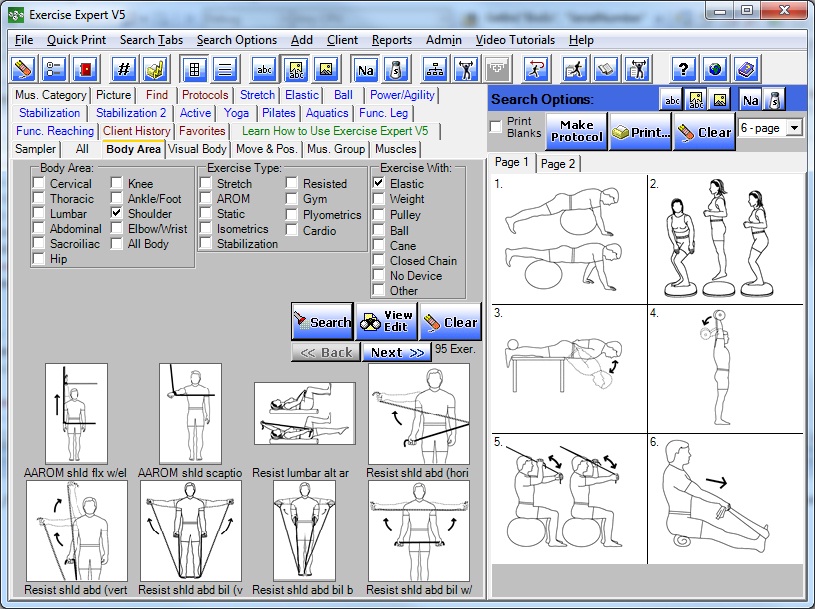 Print exercise handouts, date grids, workout grids, chart copies and much more. Over 15 styles of exercise reports.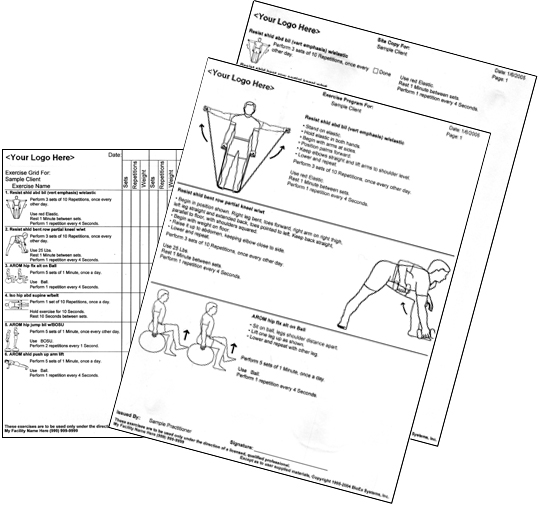 More Reasons Why Exercise Expert is the Best
There are several key reasons why Exercise Expert has been so well received.
First, it is easier and faster than other programs. This means better productivity.
Second, trainers really like the current content as well as clear illustrations depicting proper form and technique. Our panel of physical therapists and fitness experts keep our program up to date and current. Today's fitness professional needs more than outdated exercise routines.
Third, Exercise Expert is priced lower than any other program. At $89.95 for over 551 exercises, we run circles around any other software program. Do the math on the other programs. Call us or email us and we'll give you even more reasons.
For more information please download the full working demonstration copy of Exercise Expert.