Exercise Pro - Version 5
Software for Exercise Programs
"Exercise Pro enables our staff to design custom exercise programs which include both visual feedback and clear, concise instructions for our patients. Added features we appreciate are the bilingual capability as well as the various education topics."
-Jorge Orozco, PT, NCS
Rancho Los Amigos Medical Center
Features of Exercise Pro are extensive making it the ultimate exercise software. It is a complete system, no extras to buy, at ONE fair price with no additional monthly or annual fees. You receive over 3200 unique exercises that print out with clear instructions and illustrations. And with over 160 Education Topics, many with pictures, the software is versatile and comprehensive. It is a Total Care Package. Quickly and efficiently deliver research and evidence based exercises to your patients. Exercises can be printed in English, Spanish and French! Exercise Pro has EVERY feature that other programs have AND MORE! For a generalized comparison continue reading. Or click here for specific comparisons on some of our competitors.
Exercise Pro starts at $499. Additional networking options, starting at $1150, available. Click here for more information.
First, lets look at what BASIC standard features that every program should have. Most programs can do the following things although, believe it or not, some still do not have this basic functionality. If it will not do the simplest functions our program will do, you are wasting your money.
Edit text, change exercise names and create exercise variations.
Print in different formats, print a date grid and a chart copy, and print with your logo.
Create summary reports of patient programs, change exercise order, and make protocols.
The ability to add your own exercise AND to make basic illustration edits.
Now, in addition to this basic functionality, look at what ours will do on top of that.
Search for Exercises with numerous (over 20) methods and by specific exercise type, movement, position, equipment, and more.
Tab layout for efficient location of exercises
Search in a list by body part
Search by individual muscle and muscle groups
Search by movement and position
Search favorite exercises by clinician
Search using the visual body
Search results with list or picture either with or without names
Search by typing the exercise name, number or boolean search
Bookmark favorite exercises for easy and fast retrieval
Print layout preview search
Create custom search tabs
Create programs by number selection
Technical and common name search
Allowing this variety not only improves your efficiency and productivity, it means that ANYONE can find the exercise they want.
Click here to see screen shots of some sample searches.
Email Exercise Programs - In addition to being able to print out a variety of exercise handouts you may also email them. Great for Home Health and traveling patients.
Add your own exercises - Supports color images and/or import a black and white illustration. Add up to 2 color photos for each exercise.
A built-in illustration maker for adding your own exercises. Sure, we let you scan and import like almost everyone else, but no program has a built-in picture maker. We give you a stock library of parts to make your own exercises. Or copy parts of the ones already in the program.
Full page education topics and exercise theory handouts that print in Spanish. Even add, import or create your own.
Print numerous exercise handouts - Print 1,2,3,4,6,9,12, or 40 exercises per page. Print two types of tracking grids for patient progress recording. Print custom cover pages. Print a condensed exercise handout for "Onsite" or supervised fitness programs. All exercises print with sets, reps, frequency/day or week, rest periods, hold periods and rate. And more.
Links with Fitness Maker Software allowing you to integrate testing and fitness assessment into your practice. Fitness Maker includes Functional and Senior, youth, general fitness tests and much more.
Include Target Heart Rate for cardio exercises. Add your own logo to the reports. Ability to print exercises with a left or right orientation. Create programs with Pyramid sets and reps. Choose from multiple stock comments. Print with exercise numbers, common or technical names, with or without date, or blanks.
All exercise handouts may be printed in English, Spanish, and French.
Export all reports to PDF.
Create your own protocols. Has over 50 predefined protocols. Saves time making exercise programs.
Change the search criteria of an exercise.
Global exercise defaults based on specific exercise types.
Saves exercise by client name, clinician and date for easy retrieval. Keeps records of amount of weight and/or color of elastics. Also lets you have default comments on specific exercises, protocols, and for general handouts.
Complete Network compatibility.
No extra modules to purchase. We include geriatrics, pediatrics, exercise balls, elastic, weights, fitness center equipment, functional exercise, dynamic, yoga, Pilates, power/agility, wheelchair, Body Blade, hand exercises, TMJ, aquatics, amputee (both upper and lower), pregnancy, foam roll, and more.
Password protect for HIPAA compliance.
Built-in Back Up/Restore of data, automatic or manual Program Save.
Other great features include a built in spell checker and video tutorial. Numerous reports including a thumbnail summary of the exercise database. Add your own language translations. Please download the trial version to see all of these features and more.
Other considerations: We provide free update patches that ensure your software runs on the latest systems. We do not duplicate exercises in our count. If we like an exercise proposed by you we may add it for free. If you ever have to re-install due to a computer failure or loading it on another, you do not have to wait for a new code or pay again. Exercise Pro is touch screen compatible. FREE technical support by toll free number, by email, or by fax.
For ease, speed, and reduction of confusion, only two screens need to be accessed for most applications. No more "getting lost" in a jumble of multiple screens. The search screen is the home base and the key for easy exercise selection.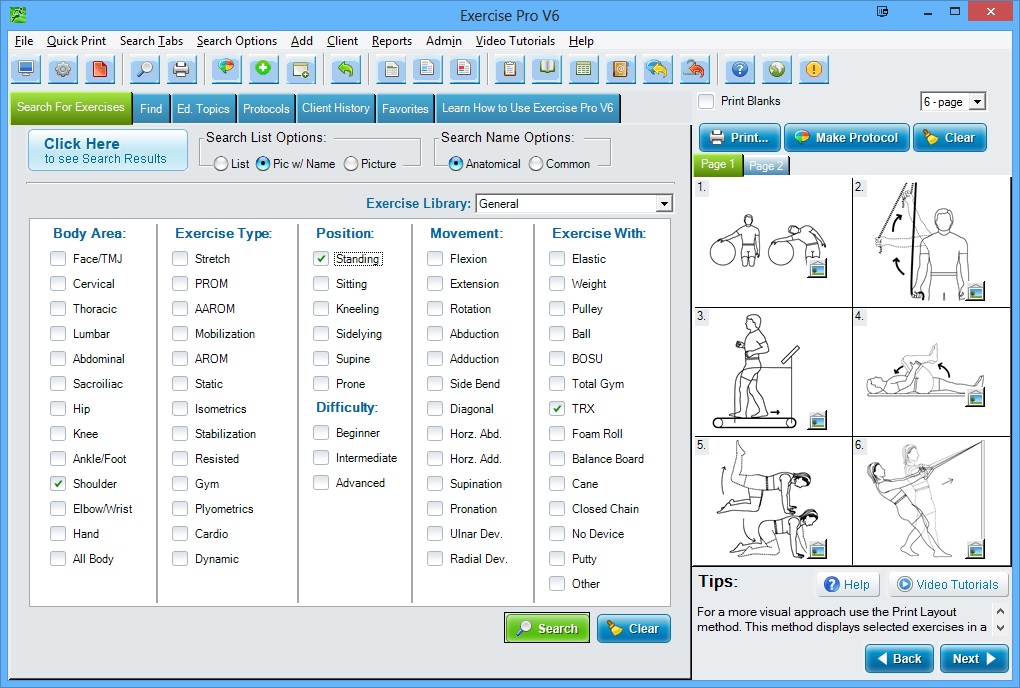 Print exercise handouts, date grids, workout grids, chart copies and much more. Over 15 styles of exercise reports.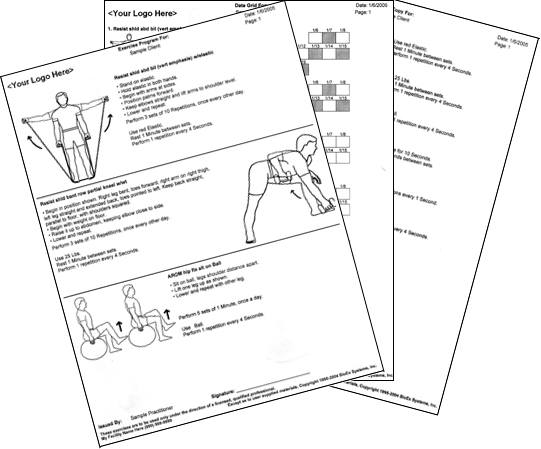 More Reasons Why Exercise Pro is the Best:
There are several key reasons why Exercise Pro has been so well received.
First, it is just easier and faster than other programs. This just means better productivity.
Second, clinicians really like the updated and current content. We have exercises that are advocated in all the latest exercise therapy courses and by all the current Rehabilitation Experts. Today's health professional needs more than the outdated content of the old card decks. Putting the same old cards into a computer program still doesn't make them any better.
Third, Exercise Pro is priced with better value than any other program. At still $499 for over 3200 exercises, you are looking at less than 16 cents an exercise. Remember, Exercise Pro is a complete system, with no additional content modules to purchase or hardware to buy. Do the math on the other programs. Call us or email us and we'll give you even more reasons.
For more information please download the full working demonstration copy of Exercise Pro.